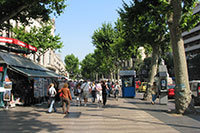 The often crowded street is popular with tourists and locals alike. The middle part of the Rambla is pedestrianized and bordered by trees. Kiosks, flower stalls and street artists are in abundance here. Traffic passes on either side of the pedestrian area.
History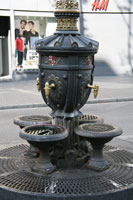 The Rambla was originally a small stream flowing just outside the city walls. In the 16th century convents and a university were built along the river. In the 19th century the city wall was torn down and buildings were erected along the now dried up river. The original buildings were demolished but they are remembered in some of the names of the five different parts of the Rambla. Even though it is one continuous street, the Rambla actually consists of five 'ramblas'. That's why the street is also called Las Ramblas (Spanish) or Les Rambles (Catalan).
Rambla de Canaletes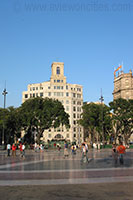 The first Rambla, starting from the Plaça de Catalunya, is the Rambla de Canaletes. The name originates from the 19th century Canaleta fountain. The expression 'he drinks water from Canaletes' means that person comes from Barcelona. And according to local legend, once you drink from the fountain, you will keep coming back to Barcelona.