One of the folk-song of Gujarat in which the wife asks her husband to bring for her patola of Patan while returning, "Chelaji Re, Mare Hatu patan thi patola mongha lavjo",(O my dear! Do bring the precious patola from patan for me!) has remained very famous for the last so many years, and so is the fame, charm and popularity of patola even today. Patola is a holy silk-cloth. It's believed that by wearing patola containing religious and miraculous powers, one feels God. It was this quality, which made the people of Thailand, Malaysiya and Indonesia Value the Patola above all treasures. For them, it was a magic cloth, which protected you in battle, which protected you from evil and bad health. It was the power cloth, which was inherited by the women and gave them very high status. Today, it is gifted to the daughter and daughter-in-law on occasions of marriages in rich families as a sign of good omen. It is considered to be wearing a high status. To process and wear patola on holy occasions is considered to be a matter of pride of cloth of maa or mawa,(Indonesian words meaning "created by God") which was considered so perfect that it could only have been created by the gods. Patola has a very old history. It is believed that the word "patola" must have been derived from the word "pat", and in Sanskrit, it is called "patta" and in Telugu "patola". It has been mentioned in the tour-depiction that in 1342 A.D. a merchant named IBEN BATUTA gifted patolas to many kings in their courts. Patolas were amply used in the 17th and 18th centuries. They were used as precious gifts. Getting made patolas was as dignified as getting rich ornaments prepared. A French traveller has noted in his diary that the patolas of Patan were sent up to Malaysia and Indonesia. Patolas were famous from Java, Sumatra to Samarkand, Basra, damask and Rome in the 15 century. Gujarat poet Premananad of the 17th century, in his famous narrative "KUNVARBAINU MAMERU" has referred to patolas as "Lakho Pachhedi Pandar kodi, Patola pachas vahuji"[Kadvu-6][Please note that I will have 300 upper clothes and fifty patolas for marriages] "Laish patolu shrikar, sadi nai paheru"[Kadvu-12][I will have the patola of shrikar (sacred shaped), but will not wear a saree]. Patolas are also referred in the Duhas of Ranakdevi as: "Juvo Patolawalio lombdiwalino kand". The psychological motive behind the specific combination of colour and design of Patola is worth understanding. The square arouses the feeling of security, as a woman generally desire security in every occasion of life. The Symbols of Elephant, Parrot, Peacock, Kalas(Jug) and the Human left are all considered to be the auspicious symbol of saubhagya (A Women's good luck of having husband alive!) The Feeling of good luck and security are imbibed in the Patola, and hence, such auspicious symbols are found in them.
India has a rich and ancient heritage in fine textiles. (Double Ikat) Patola from the area of Patan in the north Gujarat region of western India glorifies this heritage with its unique gems like qualities gorgeous colours, designing and durability. Its very appearance lures the connoisseur of fine textiles. It has no reverse side. Both the sides have the equal intensity of colour and design. This peculiar quality has its origins in a very intricate and difficult technique of the dyeing or Knot dyeing known as "Bandhani Process" on the warp & weft separately before weaving. Before world war-2, Indonesia was a major buyer of patolas. Historically, the art of double ikat patola weaving dates back to centuries. Painting in Ajanta caves, resemble the tie-dye technique of patola. Legend indicates that sometimes in the 12th century A.D. king kumarpal of Solanki dynasty invited 700 families of patola weavers from Jalna (south Maharashtra) to settle down in Patan in north Gujarat.

CREATING DESIGN BY TYING KNOTS ON WARP AND WEFT

Warp and weft silk threads are tied separately with cotton thread on the portions already marked out in conformity with the proposed design in the fabric. This tied portion is meant to remain unexposed to the colour while dying. United portion which has absorbed one colour, maybe tied while dying in another colour. Tying untying, retying and dying in different shades are the main features of this process.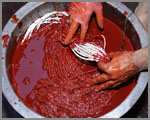 DYEING PROCESS

After completion of dyeing work of warps & wefts, the threads of the warp of different repeats of a pattern are put together in a sequence on the loom, so that the design becomes visible. The threads of wefts are wound on to bobbins and kept in the bamboo shuttle for weaving process.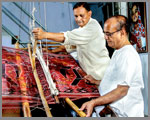 TRADITIONAL PATOLA LOOM

The patola is woven on a primitive hand operated harness loom made out of rosewood and bamboo strips. The loom lies at a slant, with the left side being lower than the right side. The bamboo shuttle is made to move to and fro through warp shades. Each weft thread is thoroughly examined and matched with each part of the warp design pattern while weaving.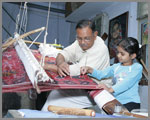 ADJUSTING THE DESIGN

The tension of the warp threads is removed by the help of needle after every time weaving of 8" to 10" of fabric. Patola weaving is a highly accurate just positioning of warp and weft of similar colour to obtain perfect design and harmony. The process is labour intensive, time-consuming and requires a high order of skill and dexterity.

It takes three to four months to prepare tie-dyed design on warp and weft threads for one sari of 6 yards length by 48" width. Two Salvis (weavers) working together weave just about 8" to 9" a day. It takes 40 to 50 days to weave a sari. Thus 4 to 5 persons take a period of 5 to 6 months to complete a sari depending on the intricacy of the design.

The Patola, a hand made Silken Textile manufactured at Patan, in north Gujarat, is an Art historically at least several centuries old (As per legends from 4th A. D.)

It is recorded in the religious books like Ramayan & Narsinha Puran that Patola was used in great ceremony and in the marriage as a holy charm dressing.

Eg.
(1)
In the period of Ram-Rajya, king Janak had presented Patola to Sitaji (Wife of God Ram).

(2)
Also in the period of great Lord Krishan, Narsinha Mehta (a great devotee of Lord Krishan) had presented Patola to Kunvarbai.

It is believed that this traditional art received great patronage during the Chalukya period of King Kumarpul reign as before 800(approx.) years.

During the period of king Kumarpal, the queen used to wear a new Patola (Sari) every day. This is also recorded in the autobiography of Kumarpal.

In ancient age dyes for colouring were being prepared by artisans themselves from the indigenous vegetable materials such as Haldi, Indigo, Lac and the same way today also pomegranate skin, Iron Rust.

Almost all the instruments of Patola loom are being made from bamboo and few from wood and also carpentry of these instruments are done by artisan himself.

The Patolas are produced from thousands of years by the same process as it was before till today. No technician is in position to make a single per cent modification in the technique and the process of preparing of Patola, as it is a special technique.
The art of Patola weaving is an ancient one. According to some historians, the art of Patola weaving was known also in the 7th Century in 'Ajanta" caves (near Mumbai, India) which resembles the tie-dyes technique of patola.

The Peculiar way of preparing the warp and weft used in Patolas gives it an appearance as it was double cloth, in machine-made double cloth if we examine a figure at a particular place we would find both sides to be equal in colour. The same would be in the case of Patola Cloth. However, it is not a double cloth. Patola cloth is a single cloth with the same colours in particular design on both sides. Flowers, animal patterns are created in weaving Patola and if any particular animal of flower is examined from both sides, there will be the same colour on each side. This is not done by printing but by ties, dyes and weaving called tie and dyes process. As said before it is the peculiar way of preparing the warp and weft that gives this effect. Warp and weft are tied into knots according to the design to be woven and then dyed into different colours. While weaving, Weaver has to be very careful to unite a particular colour in weft with that in warp otherwise design would not be clear. The striking peculiarity of Patola is the that it has exactly identical designs and colours & are permanent. There is a proverb in Gujarati "PADI PATOLE BHAT PHATE PAN PHITE NAHI "(Designs on Patola will never perish though it may be worn out).

This harmonious effect of various colours and various animals and floral design is woven in it to give the Patola a pleasing appearance.

Patola fabric represents aspects of our (INDIA) heritage in the rich traditional art and crafts. The fabrics are woven on the hand-made looms and ancient art of Patola in characterised by such exquisite weaving that the design produced present a smooth finish on both the sides of the fabrics. Patola designs comprise traditional motifs such as peacock, elephants, doll and flowers etc..